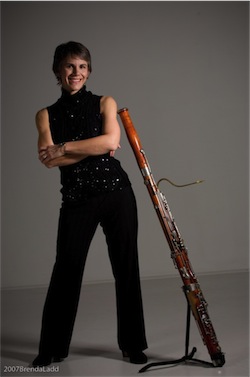 Kristin Wolfe Jensen, world-renowned performer and teacher, has been the bassoon professor at the University of Texas at Austin since 1995, and is also on the faculty of the International Festival Institute at Round Top. She is Principal Bassoonist with the River Oaks Chamber Orchestra, and has made a number of acclaimed solo and chamber music recordings. The American Record Guide reviewer said of Ms. Jensen's solo CD Shadings, "...She has simply turned in the finest-played Bassoon recital I have ever heard... She obviously sees tone quality as the foundation for her fluent technique...It is a ravishing sound, siren-like in its attractive flair...Ms. Jensen could teach a lot about musicality to a number of famous violinists…". She is awaiting the 2009 release of Parables and Reflections, bassoon music of Virko Baley, on the TNC label.
Ms. Jensen has toured Europe with the Dallas Symphony Orchestra, served as Acting Principal Bassoonist of the Houston Grand Opera, and has been a member of The Dallas Opera Orchestra, the Richardson Symphony, the Las Vegas Symphony, Jupiter Symphony of New York and Continuum. She has performed solo recitals at several International Double Reed Society conferences, and was co-host of the 2005 conference in Austin.
An esteemed pedagogue, she has given guest recitals and master classes at many major American music schools and her former UT students hold major orchestral positions and university teaching positions around the country. Formerly, Ms. Jensen served on the faculties of the University of Nevada, Las Vegas and the University of North Texas. As a student, she won the concerto competitions at the Juilliard School of Music in 1990 where she received her MM, and the Oberlin Conservatory in 1989 as an undergraduate, which led to performances of the Mozart Bassoon Concerto, k. 191. She is Co-director of the biennial Meg Quigley Vivaldi Competition for young women bassoonists from the Americas, providing the largest prizes of any bassoon competition in the world.